Peanut butter and jelly, sand and sea, peas and carrots – some things just go together – so it's no surprise when you hear ornaments, you naturally think tree. Trees during the holiday season just wouldn't be the same if not adorned with ornaments, but ornaments have so many additional fun and elegant uses.
Ornaments used in unique and novel ways will add impact and ambiance to your holiday decorating, so here are seven ways to hang ornaments besides the tree: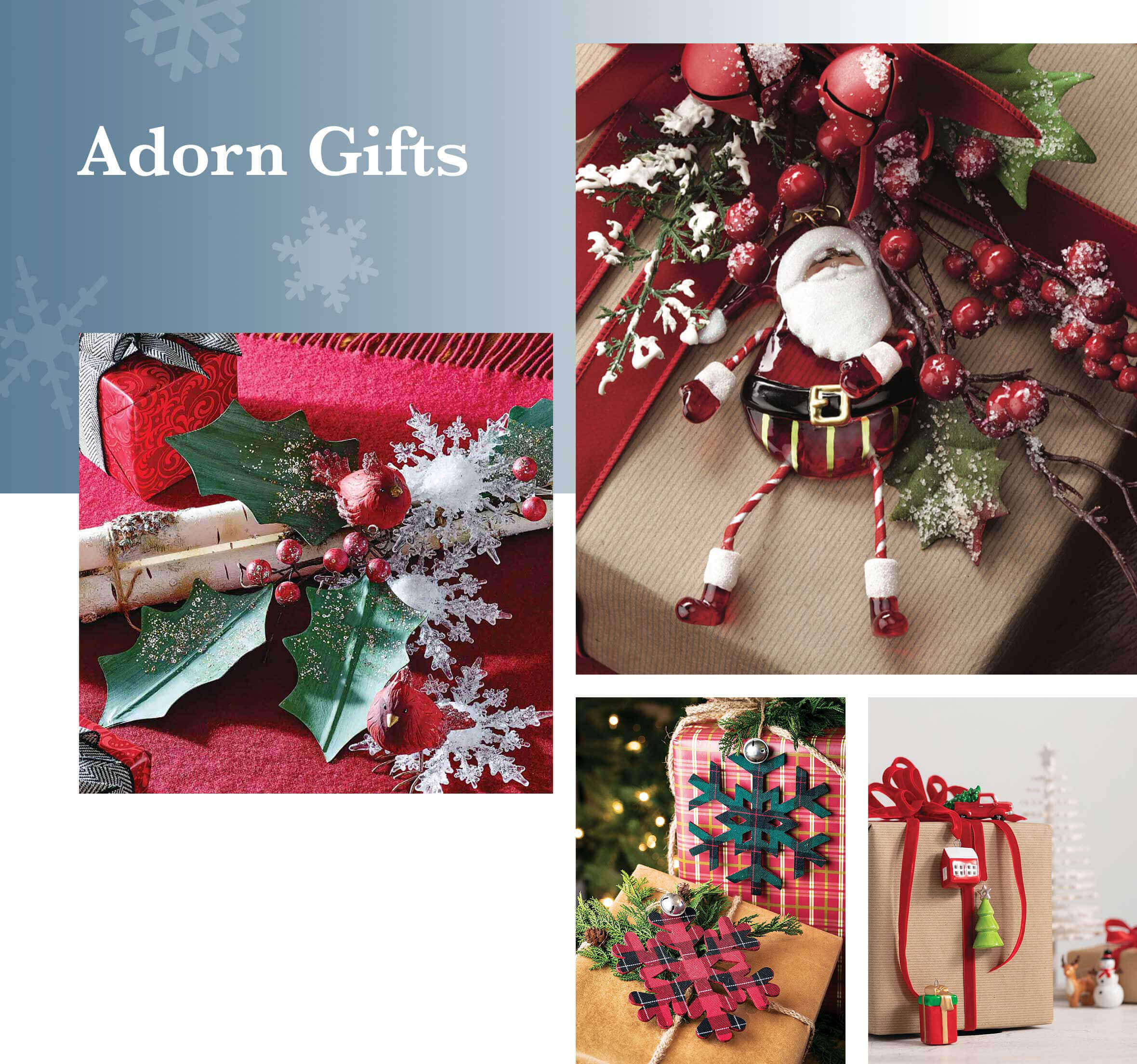 Tie snowflakes, icicles, bells or whimsical ornaments on gifts for a special touch!

Design Recipes:
Snowflake ornaments, Cardinals, mini ornament sets, Santa, sleigh bells
Spice up your Pine wreaths, swags and garlands.

Design Recipes: matte ball ornaments, opal ball ornaments, Merry Christmas ornament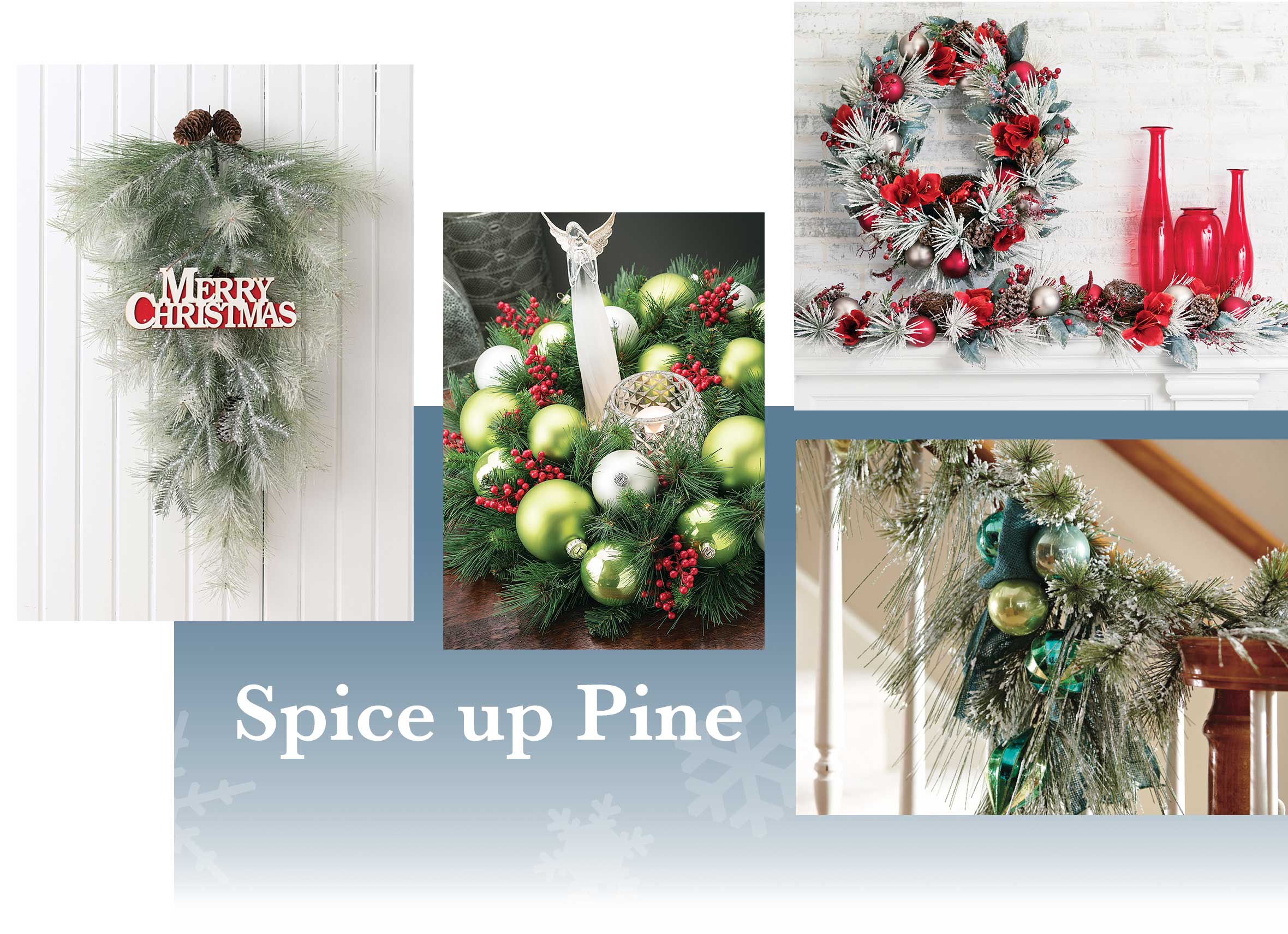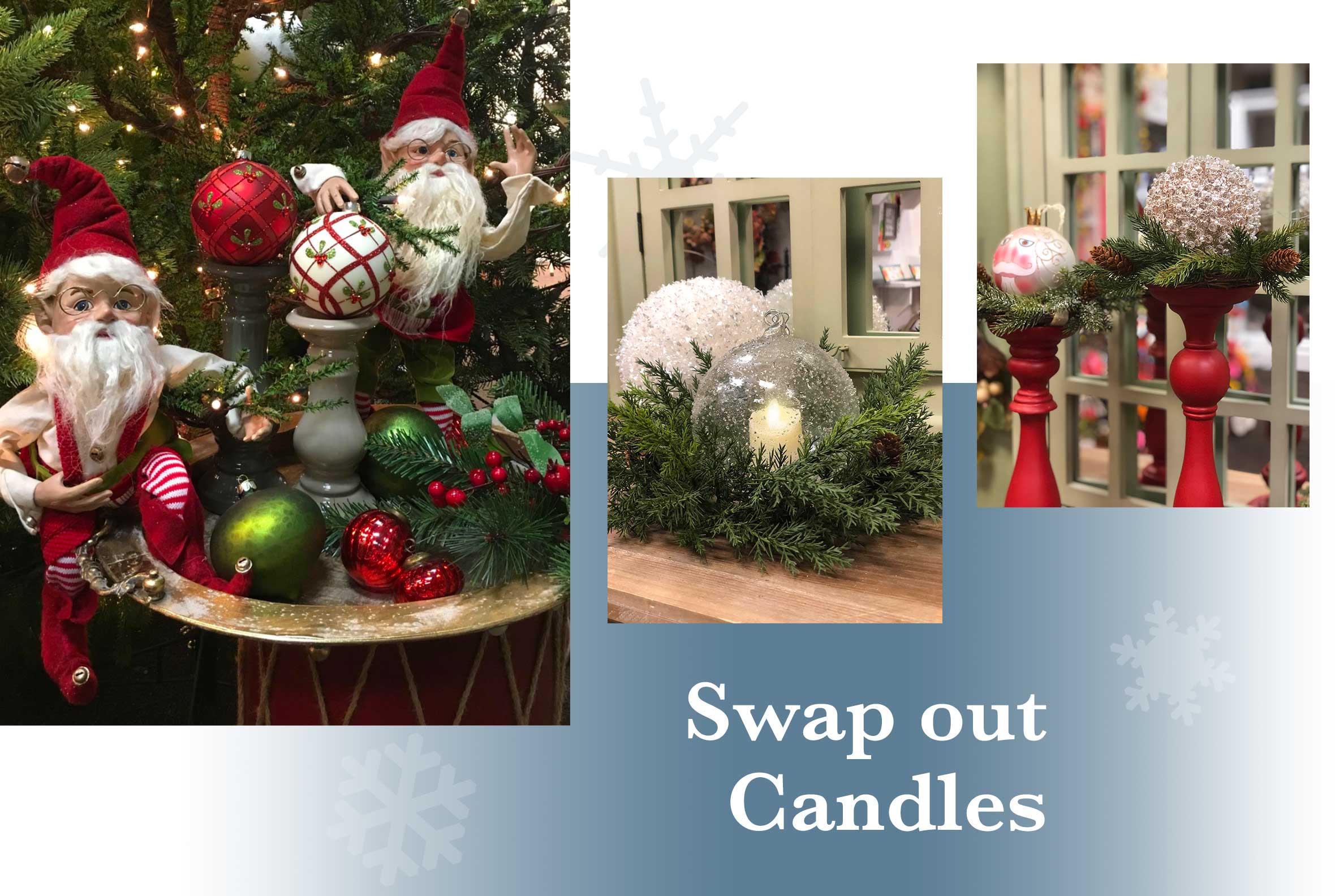 Set on top of candlesticks or in accent rings. LED ornaments add a whole other level of ambience!

Design Recipes:
LED ornaments, ball ornaments, nutcracker ornaments, snowball orb, crystal orb, pine accent rings, elf figurines, holly berry ornaments
Fill trays, lanterns, bowls or planters with ornaments, pine or berries.
Use under a cloche or fill glass jars. Add LED lights for evening twinkles.
Design Recipes: matte ball ornaments, opal ball ornaments, rustic ornaments, textured ornaments, cloche, lanterns, tea tray, farmhouse planters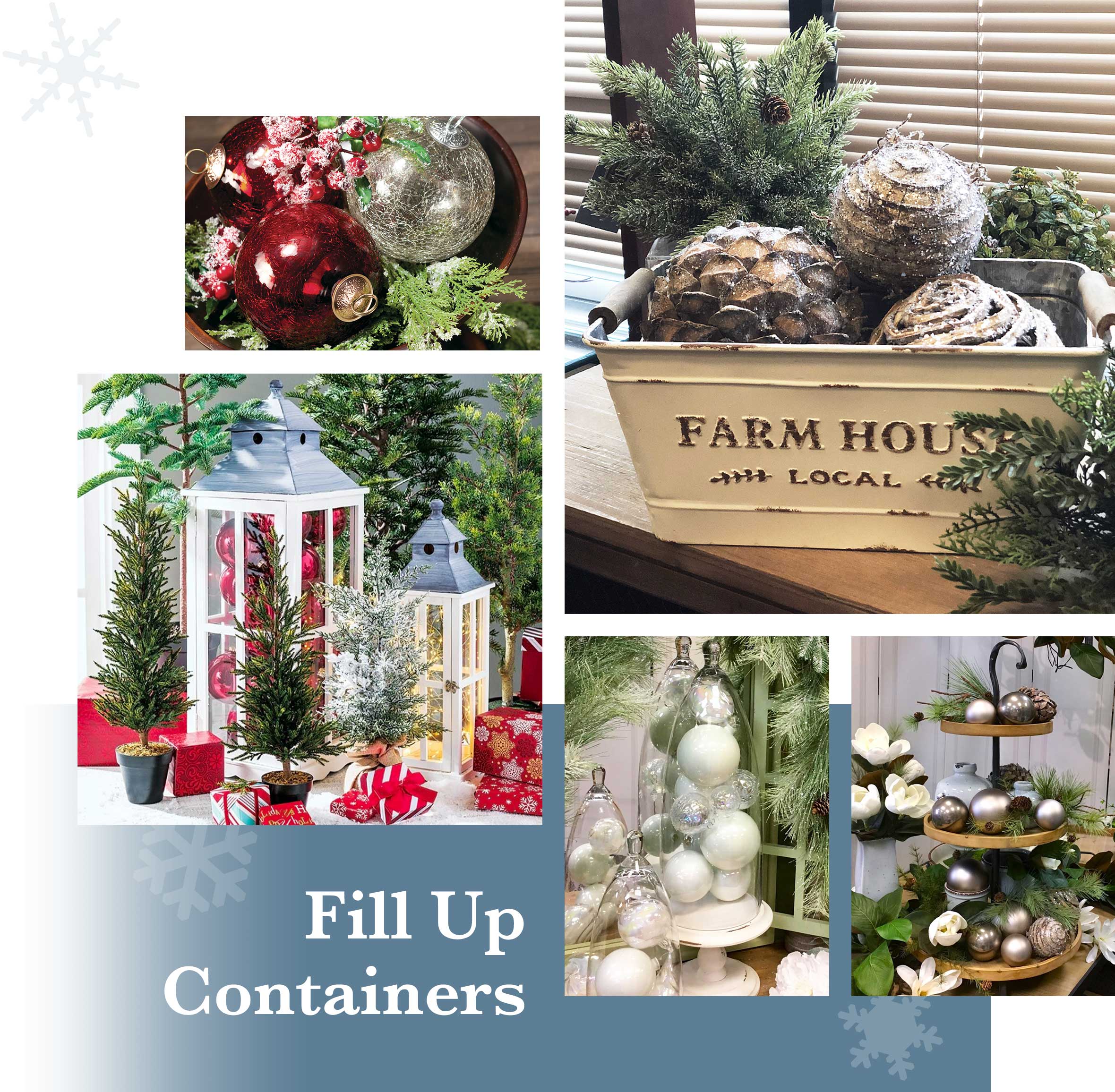 Hang finials from a chandelier or over a picture frame or try tassels on a lamp switch or doorknob.
Showcase your favorites on ornament stands.
Accessorize hair, keychains or totes. Tie crystal ornaments to a bouquet or corsage.
Design Recipes: Snowflake w/ drop, tassel ornaments, ornament stands, finial ornaments, pine sprays, magnolia leaf, magnolia stems
Set on a tray with pine and berries for a centerpiece.
Add to a place setting at dinners & parties for extra sparkle.
Bundle with figurines & other holiday displays.
Design Recipes: Tableware,red snowflake ornament, tiered tray, ornament sets,glass bottles, pinecone ornaments,pine picks, metal trays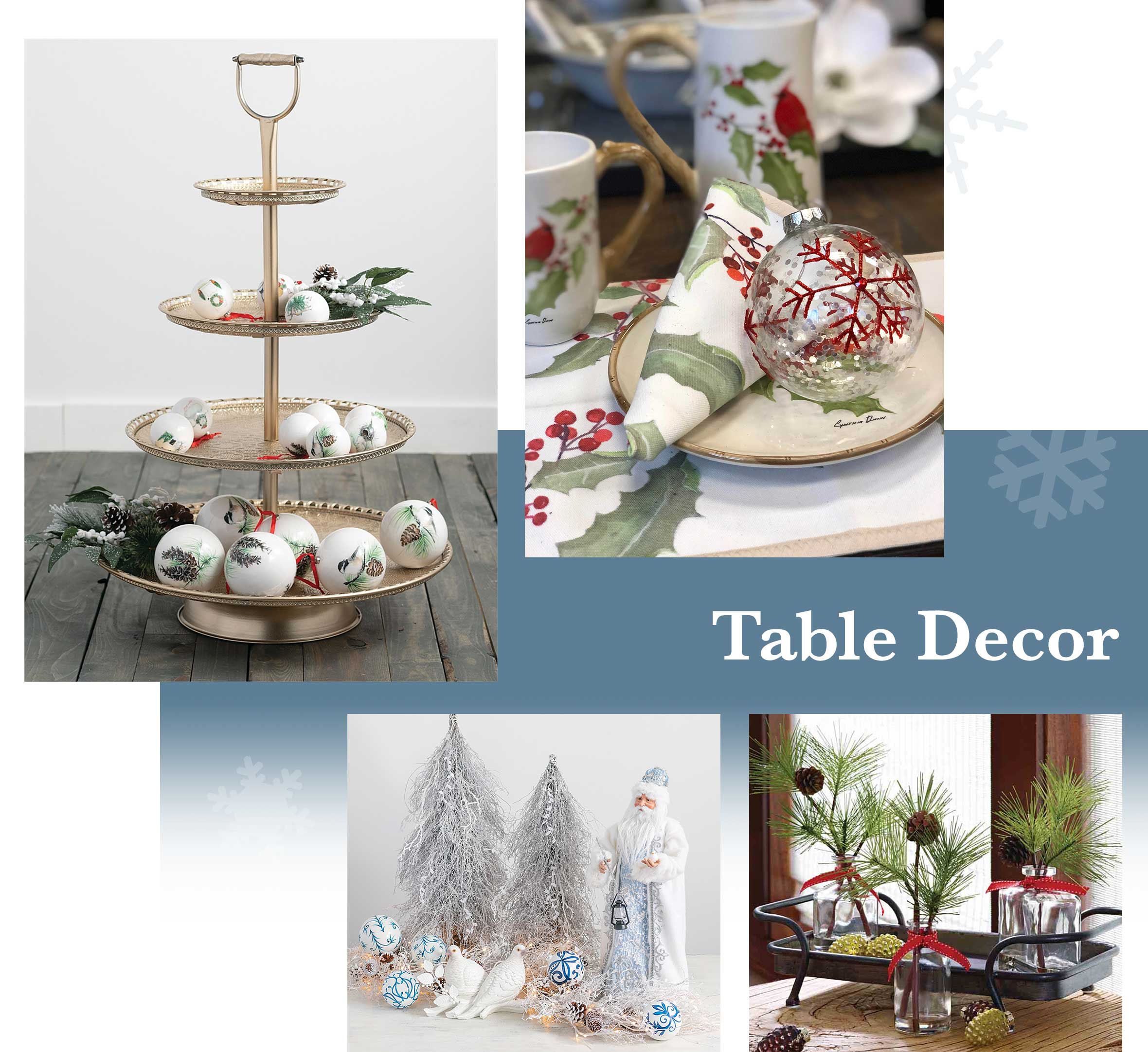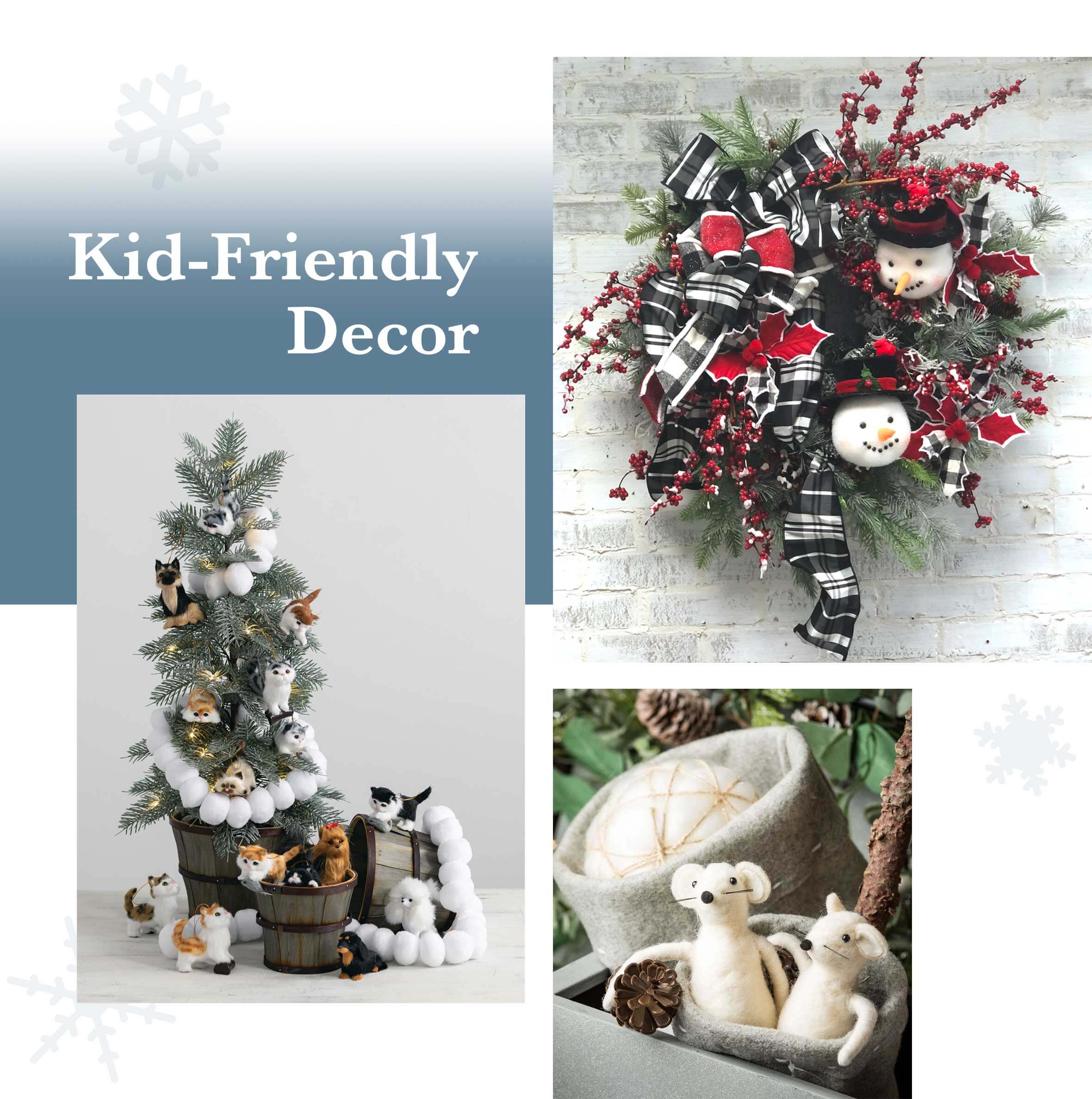 Decorate a child's bedroom or play area.
Child-friendly ornaments like felt add whimsy to wreaths, table-top trees or baskets.
Design Recipes: Snowmen heads, holly picks, frosted pine wreaths, berry sprays, plaid ribbon, plush ornaments, kitten ornaments, dog ornaments, snowball garland, basket set, trees
As you can see the possibilities are endless! Shop all of our ornaments and let your imagination run wild.
Recent Posts
Thank you to our community for your support and well wishes. We hope everyone is healthy and in g …

Peanut butter and jelly, sand and sea, peas and carrots – some things just go together – so it's …